But it didn't seem "like enough of a story" for the spoof news anchor.
"Saturday Night Live" poked fun at Donald Trump's relationships with the FBI, Russian President Vladimir Putin and the KKK in its final pre-election show.
Alec Baldwin as the GOP nominee and Kate McKinnon as Democratic nominee Hillary Clinton appeared on the spoof "OutFront" show.
But instead of asking Baldwin as Trump about his scandals, show anchor Erin Burnett (played by Cecily Strong) just kept questioning McKinnon as Clinton about her emails.
It didn't even matter whether Baldwin as Trump planted kisses on the lips of an FBI agent, a Klansman or a fake Putin.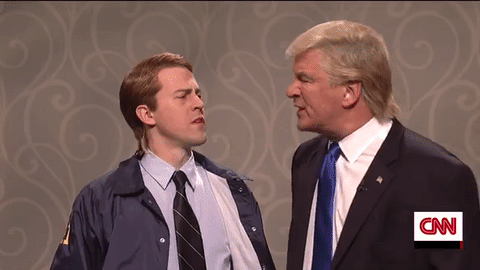 "Erin, you saw that, right? He kissed an FBI guy?" McKinnon's character asked Strong at one point.
"It doesn't seem like enough of a story, let's get back to your emails," Strong as Burnett replied.